Student Answer Center (SAC)
(515) 294-4469
Beardshear Hall, lower level
8:00 a.m. to 5:00 p.m. Monday-Friday
Email: answercenter@iastate.edu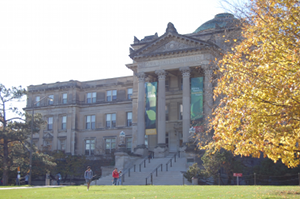 The Student Answer Center (SAC) provides one-stop assistance for general questions relating to Iowa State University and the surrounding community.
As student staffed and managed resource, the SAC works cooperatively with a variety of campus offices, to provide quick and accurate answers to basic student inquiries.
Our friendly staff also strives to provide current, past and future students—as well as families, staff and visitors—with an accessible face to the frequently asked question of, "where do I go, and who do I talk to," at Iowa State University.
We also provide:
Assistance navigating AccessPlus including password resets
Posters and Calendars

Jack Trice Stadium Posters
Women's Volleyball Posters
Women's Basketball Posters
Men's Basketball Posters
Basketball Schedule Magnets
Hockey Posters
Women's Gymnastics Posters
Study Abroad Calendars
For Other Posters: Available at Athletic Events or order from www.cyclonesmarketing.org

Publicly accessible computers for web browsing
An always friendly ISU student staff
A convenient central campus location in Bearshear Hall, or by phone or email
A free phone charging station, present on both the north and south end of the SAC. It has outlets for almost any mobile device.
Listings for Events on Campus
Plays- The Magic Flute (Fisher Theatre), Love and Information (Fisher Theatre)
Comedy in the M-Shop
$1 Bowling in the MU
Open Mic Night
Cyclone Cinema
Craft of the month and other ISU Workspace activities
---
You are invited to the Student Answer Center to learn something new at our Special Topic Display.
Current Topics: